K Votes is a non-partisan coalition to inform Kalamazoo College students, faculty, and staff members about voting and civic engagement.
The CCE aims to provide everyone, from first-time voters – to those who have voted for years, information on the voting process, registration, and what their vote means.
Beyond this site, K Votes facilitates campus events that allow all to engage with the voting process in a fun and educational manner. Check out our EVENTS above for upcoming registration times, speakers, Community Reflections, and more.
---
K Votes Winter Quarter Update
K Votes drove over 60 students to the polls on Tuesday, March 10th for the Michigan Primary!
Throughout winter quarter we hosted 10+ events that helped 85 students register to vote and over 95 get absentee ballots for this Primary Election.
A massive thank you to our fantastic volunteers who tabled for registration, helped with advertising, shared their expertise, and drove students to the polls — This would not have been possible without you!
Kayla Carson
Lisa Murphy
Joisan DeHaa
Raechel Scholz
Desma Caudill
Debbie Thompson
Cesareo Moreno
Kelly Frost
Drake Thompson
Rochelle Rojas
Christian Zeitvogel
Sarah Matyczyn
Teresa Denton
Tapiwa Chikungwa
Moises Hernandez
John Dugas
Ravi Nair
Rachel Wasserman
Jennifer DiGiuseppe
Special thanks to Emily Kowey who made all this work possible through her dedication to K Votes and her facilitation of programming and initiatives for the Kalamazoo College community. ​
Stay tuned for events in Spring Quarter and more in Fall 2020 for the National Election.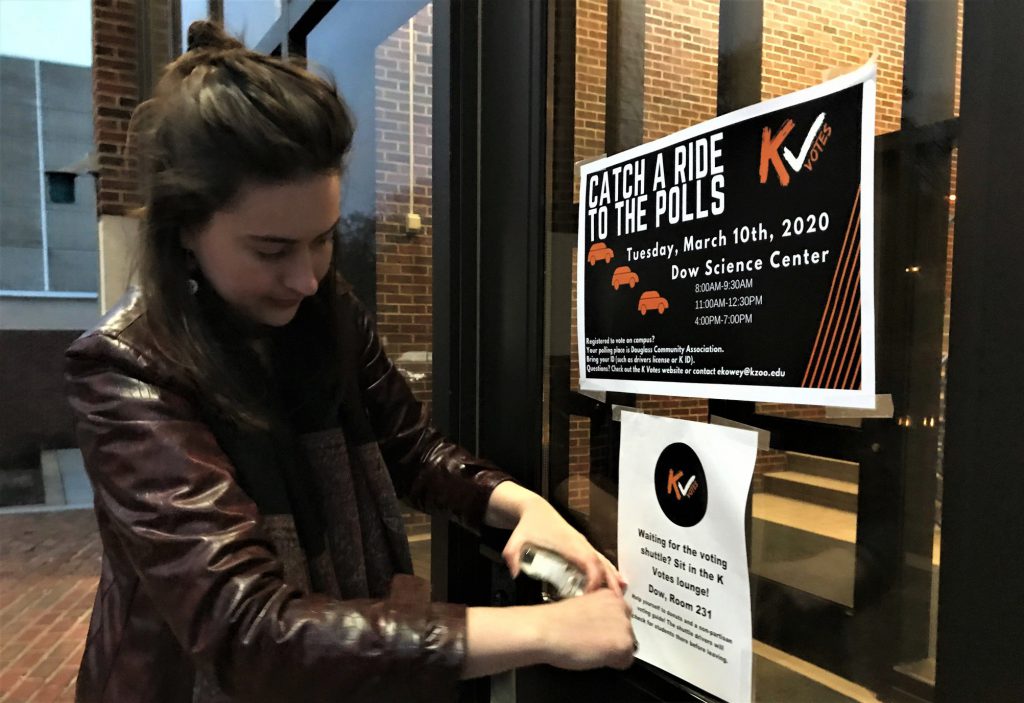 ---